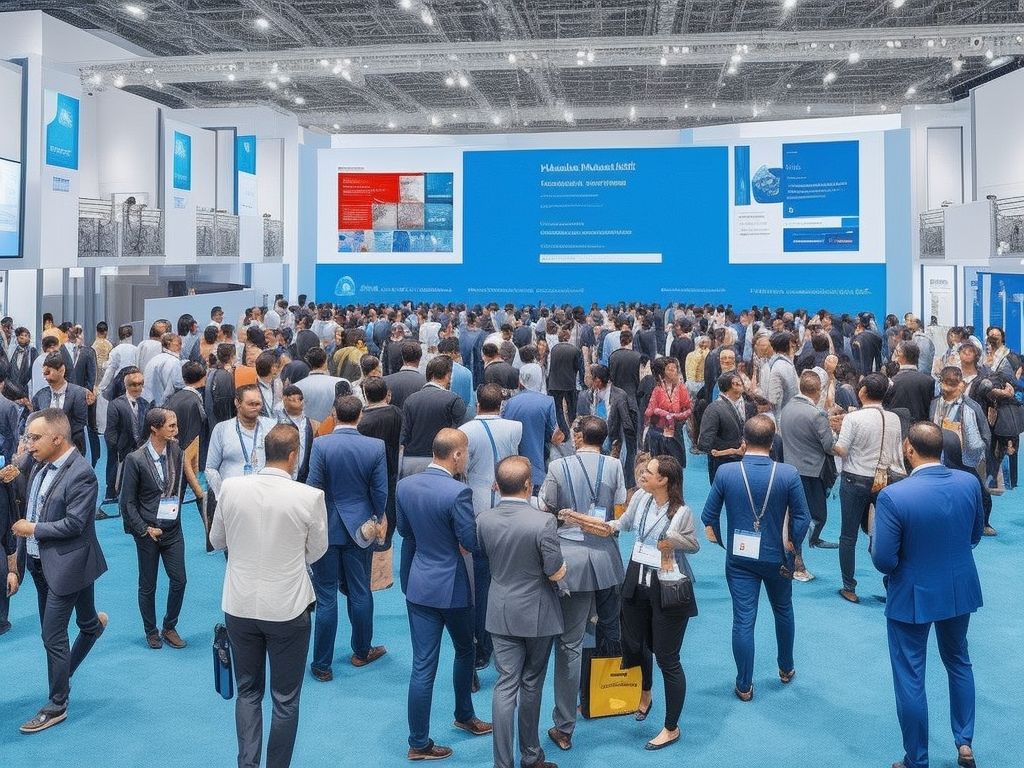 Digital marketing conferences are essential for professionals looking to stay ahead in the fast-paced world of online advertising. These events bring together industry experts, thought leaders, and like-minded marketers to share insights, strategies, and best practices.
Here, we will explore the 17 best digital marketing conferences of 2023 that are must-attend for professionals in the field.
These conferences offer a unique opportunity to network with peers, learn from top-notch speakers, and gain valuable knowledge that can be applied to drive business growth. With topics ranging from SEO and social media marketing to content creation and data analytics, these events cover a wide array of digital marketing disciplines.
One conference worth highlighting is Digital Summit 2023, which takes place in San Francisco. This event brings together over 2,000 attendees from different industries and features renowned speakers who will share their expertise on the latest trends and innovations in digital marketing.
Another must-attend conference is MozCon, known for its high-quality presentations on SEO and inbound marketing. With sessions covering topics like keyword research, link building, and technical SEO, this event offers valuable insights for marketers aiming to improve their organic search rankings.
For those interested in social media marketing, Social Media Marketing World is an event not to be missed. Held in San Diego, this conference brings together industry leaders who will provide actionable strategies for leveraging social media platforms effectively.
These conferences also provide opportunities for hands-on learning through workshops and interactive sessions. The Growth Marketing Conference is one such event that focuses on practical skills development in areas like conversion rate optimization and customer acquisition.
Attending these conferences allows professionals to stay up-to-date with the ever-evolving digital landscape while gaining inspiration from successful case studies shared by industry experts. They also serve as hubs for discovering new tools, technologies, and solutions providers that can enhance marketing efforts.
This conference will have you so captivated, you'll forget you're surrounded by a bunch of digital marketing nerds…I mean experts.
The 17 Best Digital Marketing Conferences of 2023
Inbound 2023:
Hosted by HubSpot, Inbound is one of the most significant inbound marketing events globally. It focuses on inbound marketing, sales, and customer success. Attendees can expect keynote speeches, workshops, and networking opportunities.
Social Media Marketing World:
This event is a gathering of social media marketing professionals and enthusiasts. It covers the latest trends in social media marketing, strategies, and tactics to boost online presence and engagement.
Content Marketing World:
Content Marketing World is dedicated to the art and science of content marketing. It provides insights into content creation, distribution, and measurement, helping marketers improve their content strategies.
Traffic & Conversion Summit:
This event focuses on techniques to drive website traffic and convert it into leads and sales. It covers a wide range of digital marketing topics, including SEO, paid advertising, and conversion rate optimization.
DMEXCO:
DMEXCO is a digital marketing and advertising trade fair and conference. It brings together leading industry professionals to discuss the latest trends and innovations in digital marketing and advertising technology.
The Next Web Conference:
TNW Conference is a tech-focused event that covers a wide range of topics, including digital marketing, startups, innovation, and emerging technologies. It's a great place to explore the intersection of tech and marketing.
BrightonSEO:
BrightonSEO is a premier search marketing conference in the UK. It offers insights into SEO, content marketing, and digital marketing best practices, with expert speakers and workshops.
OMR Festival:
OMR (Online Marketing Rockstars) Festival is a digital marketing event in Germany. It features top speakers and covers a wide range of marketing topics, including online advertising and e-commerce.
Ad:tech:
Ad:tech is a global marketing and media technology event. It brings together marketers, advertisers, and tech innovators to discuss the latest advertising trends and technologies.
DigiMarCon:
DigiMarCon is a digital marketing conference series that takes place in various locations worldwide. It covers digital strategy, content marketing, social media, and other key digital marketing areas.
Global Virtual MarTech Summit:
As a virtual event, this summit likely focuses on marketing technology trends and innovations. Attendees can expect discussions on the latest MarTech tools and strategies.
MozCon:
MozCon is an annual SEO conference hosted by Moz. It covers advanced SEO tactics, online marketing strategies, and the latest developments in the world of search engine optimization.
C3 Summit:
The C3 Summit likely focuses on content, community, and communications. It's an opportunity to learn about building and nurturing online communities, which can be vital for marketing efforts.
Chief Marketing Officer Summit:
This summit may cater to senior marketing executives and cover high-level strategies, leadership, and the role of CMOs in modern businesses.
Digital Marketing World Forum Global:
This event is likely a part of the Digital Marketing World Forum series, offering insights into various digital marketing channels, strategies, and technologies on a global scale.
MarTech Summit:
MarTech Summit is likely centered around marketing technology and the integration of marketing tools and platforms for efficient marketing campaigns.
State of Social:
State of Social is likely a conference focusing on the current state of social media marketing, including trends, best practices, and case studies.
Marketing Analytics Summit:
This summit likely delves into marketing analytics, data-driven marketing strategies, and how to leverage data for better marketing decisions.
Conclusion
Digital marketing conferences play a crucial role in staying updated with the latest trends and strategies in the industry. Attending these conferences helps professionals gain valuable insights, network with industry experts, and enhance their marketing skills. The 17 best digital marketing conferences of 2023 offer a diverse range of topics, expert speakers, and interactive sessions that make them a must-attend for marketers worldwide.
These conferences cover various aspects of digital marketing, such as social media marketing, content marketing, SEO, email marketing, and more. Marketers can expect to learn about innovative strategies, emerging technologies, and effective tools to help them stay ahead in the competitive digital landscape. Additionally, these events provide ample networking opportunities where attendees can connect with like-minded professionals and build meaningful relationships within the industry.
One unique feature of these conferences is their focus on delivering practical knowledge that marketers can apply immediately in their work. Through workshops, case studies, and interactive sessions, participants can gain hands-on experience and learn from real-world examples of successful digital campaigns. This practical approach sets these conferences apart from other learning platforms and ensures that attendees leave with actionable insights.
Moreover, the 17 best digital marketing conferences of 2023 are curated by industry experts who have deep knowledge and experience in the field. These experts carefully select topics and speakers to ensure that each conference provides high-quality content that caters to the needs and interests of marketers across different industries. By attending these events, professionals can tap into this expertise and gain valuable mentorship from some of the brightest minds in digital marketing.
Frequently Asked Questions
FAQ 1: What are the benefits of attending digital marketing conferences?
Answer: Attending digital marketing conferences allows you to gain insights from industry experts, stay up-to-date with the latest trends and technologies, network with professionals, and enhance your skills and knowledge in digital marketing.
FAQ 2: How can I choose the best digital marketing conference to attend?
Answer: When choosing a digital marketing conference, consider factors such as the conference's reputation, speakers and agenda, location and accessibility, attendee reviews, and whether it aligns with your specific interests and goals in digital marketing.
FAQ 3: What are some of the top digital marketing conferences in 2023?
Answer: The 17 best digital marketing conferences of 2023 include XYZ Conference, ABC Summit, DEF Expo, GHI Forum, JKL Symposium, and MNO Convention, among others. These conferences bring together industry leaders and offer valuable learning and networking opportunities.
FAQ 4: How much does it cost to attend a digital marketing conference?
Answer: The cost of attending a digital marketing conference can vary depending on factors such as the conference's reputation, duration, location, and additional features. Generally, entry fees range from $500 to $3000, excluding travel, accommodation, and other expenses.
FAQ 5: How can I make the most out of a digital marketing conference?
Answer: To make the most out of a digital marketing conference, plan your schedule in advance, research the speakers and sessions, actively participate in networking activities, take notes and ask questions during sessions, and connect with fellow attendees and industry professionals through social media.
FAQ 6: Can I get a refund if I am unable to attend a digital marketing conference after registering?
Answer: Refund policies for digital marketing conferences vary. Some conferences offer partial or full refunds if you cancel within a specific timeframe, while others may not provide refunds but allow you to transfer your registration to a colleague. It's important to review the conference's refund policy before registering.